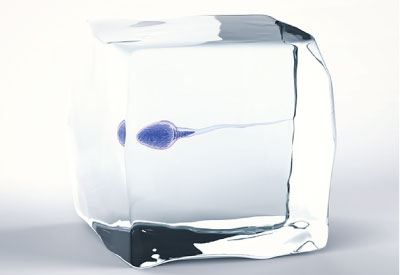 Sperm Freezing

Also known as 

Sperm Cryopreservation or 

Sperm Banking OR

Semen Cryopreservation
Why is sperm freezing done?
Sperm freezing is used as a fertility preserving technique in Men undergoing surgeries such as orchidectomy (Removal of Testes) or prior to chemotherapy or radiotherapy in case of cancers.
Sperm freezing can be done in cases where the sperms counts are low and falling or where the quality is steadily deteriorating in spite of all therapeutic measures.
Sperm Cropreservation is routinely done in all IVF or IVF ICSI cycles. This is a backup sample which is taken in case the male partner is unavailable or is unable to give a sample on the day of Oocyte Rertrieval (oocyte pickup/OPU).
Sperm freezing can be done in those cases of IUI where partner is away during the ovulation days on a regular basis.
Sperm Freezing is also used when male partner is unable to provide a sample on demand. This mainly occurs due to anxiety.
Sperm Freezing is used in Intra Uterine Insemination with Donor sperms. The donor sperm samples are quarantined for a period of atleast 6 months. Donors are tested for HIV, HBsAg, HCV before and after the quarantine period of 6 months.
In cases of Surgical Sperm retrieval techniques like TESA / PESA / Micro TESE, the sperms obtained can be cryopreserved for future use in IVF ICSI cycles. This avoids repeating the invasive procedure at the time of IVF ICSI.
How is it done?
Before the freezing process, your doctor will explain the process to you.
Blood tests for HIV, HBsAg and HCV are taken before collection of the sample. Other tests may be advised as per situation.
A fresh sample is produced after 3 days of abstinence.
The sample is analysed and frozen and the report of the same is shared on the same day.
Repeated samples may be required depending on what the sample is cryopreserved for.
Are there any risks of Semen Cryopreservation?
There are no known medical risks of semen cryopreservation.
What is the cost of  Sperm Freezing or Semen Cryopreservation?
Please refer the following Quick Reference Chart for knowing the cost of Sperm Freezing or Semen Cryopreservation procedure:
Cost of Treatment