Tips to Manage Stress during Infertility Treatment
We all know that we should keep the stress to minimum while seeking Infertility Treatment. Easier said than done! We know that stress has  a negative impact on Infertility treatment,  but it is very difficult NOT to be stressed about the unknowns of the infertility treatment especially since it is so closely associated with a very personal space in our lives.
No matter how positive you are in life, Infertility treatment and IVF do make even the strongest couples nervous. It is best to analyze the stress and try and figure out what part of the treatment is causing the most stress. Being informed about all the aspects of IVF treatment is the only way to reduce the anxiety.
Here are the top 5 factors that typically cause stress to patients when they go for Infertility Treatment:
TIME SPENT ON IVF CLINIC VISITS
IVF or Infertility treatment needs time commitment. Sometimes from only the female partner and sometimes both the Male and Female Partner. Try and allocate sufficient hours on the day of Clinic visit. Make prior appointment. But at the same time also understand that certain days your clinic visit may take longer than anticipated. Try calling the clinic before hand to understand what procedure you are supposed to undergo on the day of visit and allocate time accordingly. Try and visit a clinic that is open and prompt on WhatsApp communication and telephonic consultations. You should not be expected to visit clinic for small queries.
MONEY – DYNAMICS OF IVF PACKAGE COST
IVF treatment needs financial planning. IVF treatment cost in Indore in 2021 typically starts from 1 Lakh to 1.75 Lakhs. It is better to understand the IVF cost, the payment model etc. before you start your treatment. Ask about what all is included in IVF package and what is not included. Be very clear about when to pay and how much amount you should pay. Some clinics take the entire IVF cycle cost upfront, while some clinics take the IVF amount in multiple parts.
To avoid any stress on the day of procedure, make sure that you know how much you need to pay before the procedure. For hassle free procedure, be sure you know what mode of payment (Online / Card or Cash) you will choose while making the payment.
EXPECTATION RELATED TO SUCCESS RATE OF IVF TREATMENT
Have hope, but have very realistic expectations for you case. Having a positive attitude in general is good, but being over confident about your treatment is not. Ask the doctor about IVF success rate in your specific case. Set the expectations correctly. Have faith and hope when you go through your IVF cycle, but more importantly, have the courage to accept an IVF failure. And if you are among the strong ones, be brave to try again!
FEAR OF INFERTILITY TREATMENT SIDE EFFECTS
Many of use fear about side effects of the fertility inducing drugs might have on our body. Be rest assured that over the years the drugs used to induce ovulation have become safer and have almost no side effects when taken for a short duration. Many of us are afraid of undergoing any procedure like laparoscopy or IVF egg retrieval.
It is absolutely ok to be afraid of the procedure. Undergoing General Anaesthesia does scare a lot of people. But at the same time take solace in knowing that Ovum Pickup or OPU or egg retrieval is a very short process that usually lasts around 10 to 15 minutes. Patient will feel no pain when under General Anesthesia. After the procedure, the patient will feel minor discomfort which usually settles with oral pain killers.
To know if IVF Process is painful, please read our blog.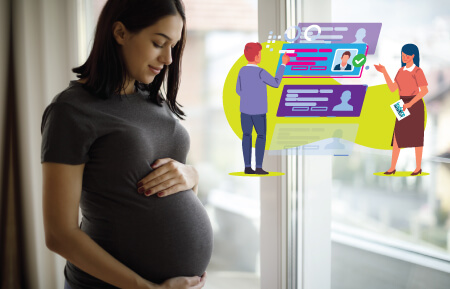 TRUST AND FAITH ON DOCTOR
If the reports indicate that one needs IVF treatment, the patient usually consults a few IVF Specialists before choosing where to get the treatment from. Choose a doctor whom you trust. Most of the IVF centres in the city will offer similar IVF packages with just 10 to 15% variation in cycle cost. Trust usually comes from patient references and or your direct interaction with the doctor. Choose an IVF specialist that you have complete faith and trust in even if it costs you 10% more. There is no money that can buy you peace of mind.
Here are some other pointers that could help you to manage the stress caused during Fertility Treatment:
LESS IS MORE
When it comes to knowledge of Fertility treatment, the plethora of knowledge on the internet is mind blowing. Often times, it does more harm than good to search for fertility related queries on internet and social media.  It is important to be educated about the process, but at the same time make sure that you get the education from the right sources. Make a list of all your queries when you visit your IVF specialist instead of seeking the answers on the internet. Very often, the information is half baked.
STAY BUSY
Taking a leave for sake of Infertility treatment is never advisable, as you may end up thinking more about it and cause unnecessary stress. Stay sufficiently busy so that your mind is at rest and not unnecessarily overthinking. At times reading a book and pursuing a hobby acts as a huge stress reliever especially during the 14 days wait period.
FIND THE RIGHT SUPPORT SYSTEM
Find a few people who understand what you are going through, having even one person to talk to helps relieve the stress. Try not to obsess about various aspects of the  Infertility treatment by discussing the pain points over and over, but do have a few trusted people, who would know what you are going through and cover for your absence at work or home.
When you finally decide to go ahead with treatment, do your homework before you commit to the IVF cycle, there is no point in getting stressed mid way of your cycle and wondering if you have taken the right decision.
Infertility Treatment Is A Journey
Remember, Infertility Treatment  is a journey and healthy baby is your destination. IVF Centre is the vehicle that you choose for the journey, IVF specialist are the Pilot / Drivers who steer your vehicle for a bump free ride to your destination.
Just like a flight makes you reach your destination faster than a train, an IVF Centre / IVF Specialist who are experienced will lead you to your destination in the shortest time and as per your budget. So once you decide the mode of journey and choose the right vehicle, just sit back and have faith!
WHATSAPP FOR MORE INFORMATION