Things to keep in mind before Ooctye or Egg Retrieval
Once the timing of HCG (or any other similar trigger) is finalized, start preparing for the OPU procedure.
HCG injection is very important for final maturation of oocytes and therefore utmost caution should be undertaken for this last injection of the IVF Stimulation cycle.
LAST BUT NOT THE LEAST

This holds very true for the HCG Injection or Trigger Shot. If anything goes wrong with HCG injection, not a single oocyte will be retrieved.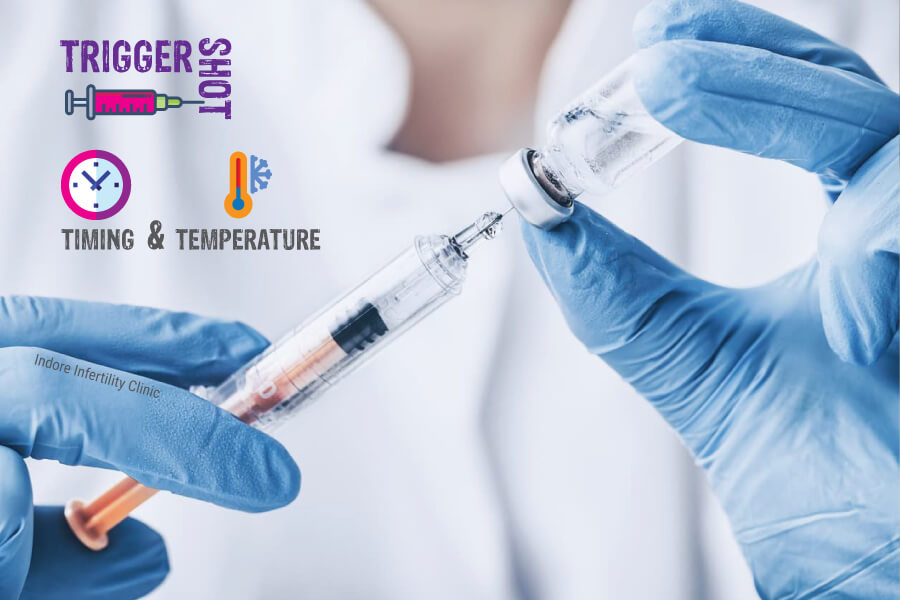 The two things that are of utmost importance for HCG Injections or often called as Trigger Shot in an IVF Cycle : TIME & TEMPERATURE

 
Timing of HCG Injection
Trigger needs to be administered at the exact time as mentioned by the doctor. This is because OPU or egg retrieval is usually done 35-36 hours after HCG. Note the exact time of administration and inform doctor on the day of OPU.
 If the injection is taken later than advised, it may result in retrieval of immature oocytes . While in case the injection has been administered earlier than advised, it may result in spontaneous ovulation before the OPU. In both these cases will impact the IVF cycle and may lead to cycle cancellation which is extremely frustrating for both the couple and the treating unit.
If you have not taken the injection on the time advised by your doctor because of any emergency, please inform your doctor before OPU. In such cases, timing of OPU may need to be rescheduled – Please keep your doctor informed and do not to worry.
As the injection is usually administered at night, you should be sure on the morning of HCG injection, where you intend to get the injection administered at night. Always carry your file with you as the injection is prescribed in the file. We have a designated nursing station for administration of the injections at odd hours at night. Please contact or nursing staff if you need any help.
Temperature of HCG Injection
Always carry the injection in an insulated box with Ice packs if you are getting the injection packed for administration somewhere near you. The injection will be completely ineffective if a proper cold chain is not maintained.
HCG Trigger Injection needs to be stored in the Refrigerator compartment and NOT in the Freezer Compartment.

ICE PACKS that are used for insulating the injections while travelling should be stored in the Freezer Compartment.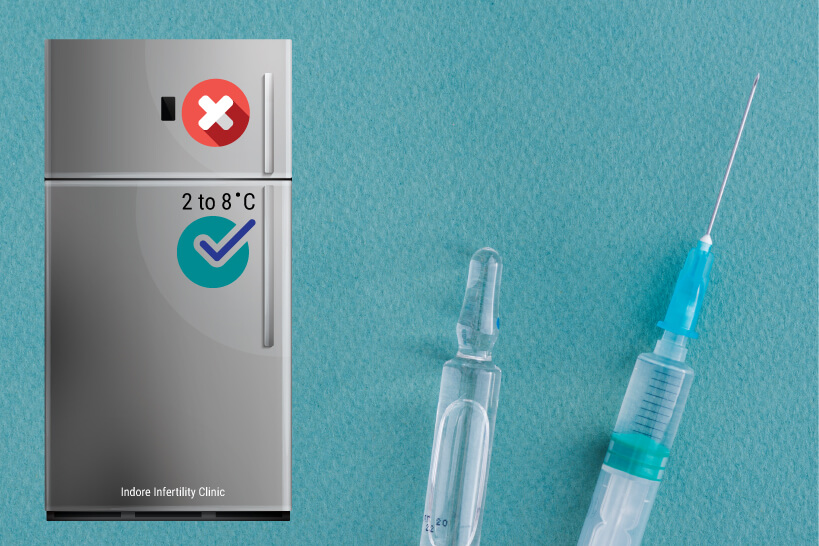 General advice before OPU
OPU is usually done under General Anaesthesia.
A pre-anaesthesia checkup is performed before the OPU. This includes blood investigations like:
CBC
Blood Sugar
Thyroid
HIV
HBSAg.
Some other investigations like X Ray, ECG etc. may be advised as per the clinical situation. These tests can be done 2-3 days prior to OPU at any laboratory of your choice. Be sure to show these investigations prior to OPU and always bring the hard copy of these reports with you on the day of OPU.
If you are taking any medicines, please inform your doctor before OPU. Same goes with allergies. Usually medicines taken for High blood pressure and Hypothyroidism are taken early morning on the day of OPU with a sip of water. Your doctor will discuss this before OPU.
We at Indore Infertility Clinic usually perform OPU in the morning. Meals and water intake instructions are as follows:
Light meal on the night before OPU, finish your meal before 10 pm.
If you feel thirsty at night, you can drink a few sips of water.
Do not eat or drink anything in the morning, on the day of procedure. This is extremely important – Nil by mouth means nothing to be taken at all. If your doctor has advised to take any medicines, they are to be taken early morning with a small sip of water.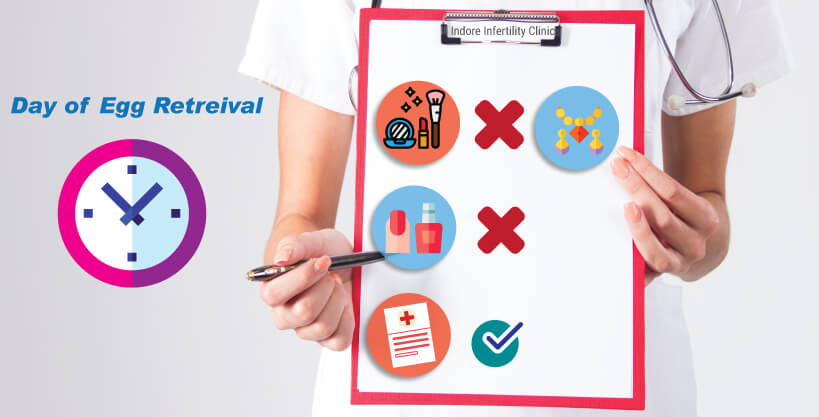 Advice on the morning of OPU
Reach the clinic well ahead of time. It is extremely important that the procedure is done as per timing of HCG so please be punctual. If you are getting delayed because of any reason, please keep in contact with the clinic.
Upon arrival to the clinic, the nursing staff will take you to the preparation room and ask you to change in an OT gown.
Avoid carrying unnecessary things. It is best not to carry any unnecessary belongings with you on the day of OPU, or if you have anything important, hand it over to your partner before the procedure.
No Jewelry Please. It is best not wear any jewelry. It is also not advisable to use any cosmetics, powder or perfumes on the day of OPU as it is detrimental for the IVF Lab environment.
No Nailpaint or Makeup. Nailpaint, should be removed before coming for the procedure, as it interferes with the monitoring of pulse and oxygen saturation.
Bring your Patient File and Reports
OPU usually takes about 15-20 minutes. After the procedure you will be shifted to the recovery room. You will be advised to rest for a couple of hours to recover from the effects of anaesthesia.
Advice after OPU
Once you are able to walk, which usually takes 2 hours, you will be allowed to have a few sips of water. After observation for another hour or so, you will be allowed to go home with a medical prescription for the next few days.
After the OPU, you will need someone to drive you home as you will not be able to drive yourself. You will be able to have a meal in the evening and in the night on the day of OPU. It is best to take something that is light and easy to digest. In case you have nausea or vomiting, it is advisable to take only liquids.
Most ladies resume their normal activities and work from the next day of OPU without any problems.
Mild pain and spotting is common after OPU for 1-2 days. You will be given a pain killer for the same. If you have any concerns, do not hesitate contacting us.
After OPU is performed, you will have an appointment to discuss the outcome of stimulation, number of oocytes retrieved, number of embryos and blastocysts formed and details of cryopreservation. You will also be discussing the plan for Embryo Transfer in this visit.
Semen sample
Your partner will be asked to give a sperm sample on the day of the egg retrieval. Two days abstinence is advised before the day of OPU. If any surgical sperm retrieval procedure is to be carried out (TESA/Micro-TESE), instructions will be given accordingly. Most of the instructions are similar to the Pre-OPU advice.
If you have any problems in providing the semen sample at the clinic, please discuss this with your doctor. We can arrange for a home sample collection and give advice accordingly. Usually one semen sample is cryopreserved during the stimulation cycle as well so as to provide as a back up in case of any emergency. 
This video shows the entire IVF process in the IVF Lab.  Hope you like the brief tour. The video has been shot by our Embryology team and directed as well as edited by them. Show your support with a Like!